Debt Capital Markets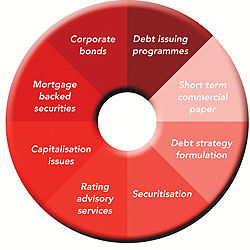 Via Capital, currently and prior to the buy-out, has assumed a leading position in the development of the corporate debt capital markets in South Africa.
Via Capital has orchestrated the raising of some R5 billion of long term capital market debt securities and arranged, managed and placed some R2.5 billion of short term commercial paper on an ongoing basis.
Via Capital pioneered the introduction of export credit-wrapped bonds into the South African market with the EGL01 and EGL02 bonds. These were issued under the Eagle Bonds commercial paper programme, which is controlled and administered by Via Capital.
Via Capital also facilitated the creation of the first corporate yield curve in South Africa for Imperial Holdings, combining a short term commercial paper programme with the IPL1, IPL2 and IPL3 bonds.
Via Capital implemented the first use of the secure trade matching and settlement systems of the Bond Exchange of South Africa (BESA) and Strate for unlisted commercial paper, achieving both cost savings and substantially reduced settlement risk.
As a member of BESA, Via Capital sponsors and distributes paper off its own trading desks.
Via Capital differentiates itself in this market by distributing solely for third parties (it does not fund itself through its trading desk), and by carefully adapting debt capital market products to best fit the underlying corporate business need.
Via Capital has established relationships with all of the major investing institutions in South Africa.
Via Capital is able to deliver in all aspects of the implementation of any debt capital market transaction, including debt funding strategy formulation, advice on the rating process, transaction design, legal documentation, marketing, distribution and post implementation support.