Specialised Treasury Services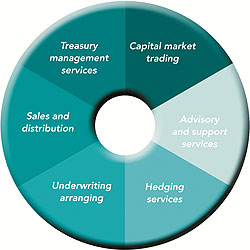 Via Capital operates sophisticated treasury management systems which align its trading activities with its distribution and risk management processes.
In addition to being able to transact the full spectrum of interest rate products and derivatives, Via Capital is also competent in fuel hedging and trading in credit derivatives. Via Capital's Treasury transacts only in the Rand market.
Via Capital is active in attempting to facilitate trade in debt capital market instruments which it originates. As such it has been a leading force in the use of bond switches to allow institutions to move substantial parcels of illiquid stock.
Via Capital offers its clients a comprehensive post-transaction support service including accounting fair valuations for bonds and derivatives, cashflow management support and advisory services.
Via Capital typically seeks to clear and settle transactions in both listed and unlisted instruments through the settlement systems of the Bond Exchange of South Africa. This offers issuers a robust, reliable settlement procedure and greater control over the process.